Dental Implants – Fort Smith, AR
The Most Comprehensive
Tooth Replacement Solution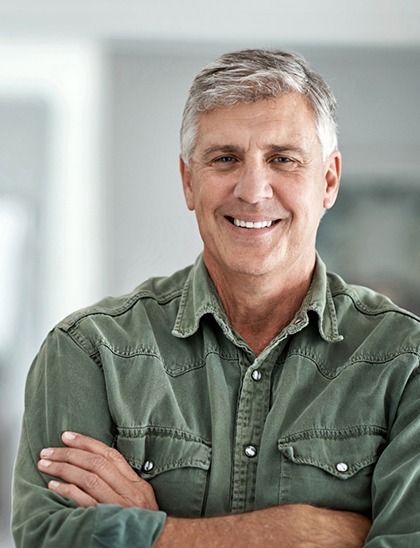 For over 50 years, researchers have been fine tuning dental implant treatment, making it easier and more accessible for more patients. Today, dental implants in Fort Smith, AR are widely considered to be the ideal tooth replacement option thanks to their longevity, durability, aesthetics and, of course, functionality. Out of all the options out there, dental implants come the closest to mimicking natural teeth. Once your implant is placed, we'll create a restoration that looks natural and restores your daily habits.
Why Choose New Smile Dental for Dental Implants?
Partners with Expert Oral Surgeons for Placement
Friendly Spanish-Speaking Team Members
Strong and Lifelike Dental Ceramics
Benefits of Dental Implants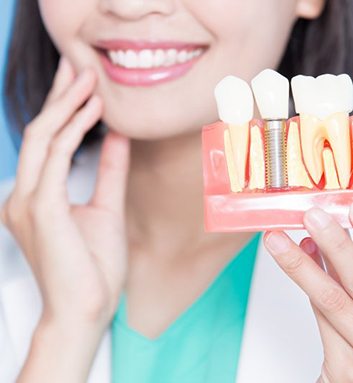 Because dental implants replace the crown and the root portion of your tooth, you can expect many restorative benefits that you can't find anywhere else. For example, as the implant integrates with your bone tissue, chewing feels more natural than ever before. This is because the titanium post is continuously stimulating your jaw, allowing you to regain up to 70% of your original biting force. Blood flow is also restored, which prevents your cheeks from prematurely sagging or hollowing out as a result.
Additionally, dental implants have an extremely high success rate when placed by a professional. On average, implants fall between 95% and 98%, largely because dentists and oral surgeons take all the steps necessary to avoid complications. On top of that, they last anywhere between 25 years and a lifetime, which makes them an ideal long-term solution for tooth loss. Plus, unlike bridges, you don't need to remove existing enamel from neighboring teeth just to have them placed.
Indications for Dental Implants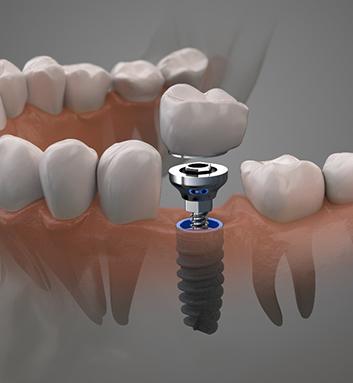 Dental implants can be used to replace teeth in a multitude of scenarios. It doesn't matter if you need to replace a single tooth or you've had a denture for many years and want to make it more stable, dental implants can meet your needs!
Missing Single Tooth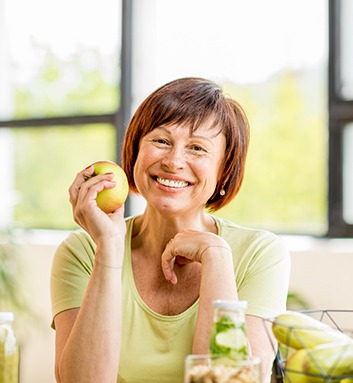 To replace one tooth, a single titanium implant is placed inside your jaw bone. After the implant heals, an abutment is placed on top, which connects the restoration to the implant. Once fully healed, an all-porcelain, implant-retained crown is attached to the abutment. This ensures that your smile looks natural after treatment.
Missing Multiple Teeth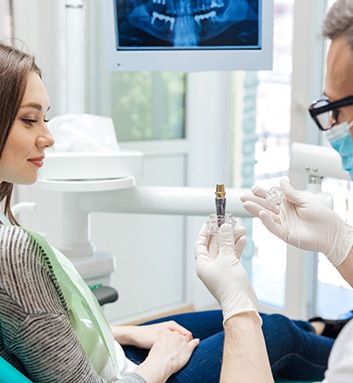 Implants can easily be fitted with dental bridges. By using just two implants on either side of the bridge, you can effectively replace three to four teeth at a time. Since the implants are anchoring the bridge, you don't need to remove any existing tooth enamel just to have it placed!
Missing All Teeth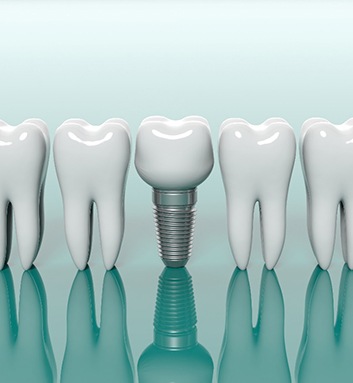 Implant-retained dentures are one of the most popular options for replacing teeth because you only need four to six implants to hold an entire arch at a time. Plus, implant-retained dentures can be designed to be removable or fixed, depending on your preference.
How Dental Implants Work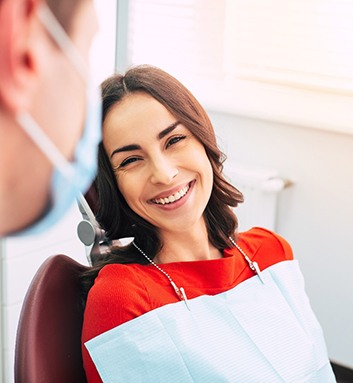 New Smile Dental partners with oral surgeons in the greater Fort Smith area to have your implant(s) placed. We'll make sure to go over your treatment plan in great detail, both with you and your oral surgeon, to ensure that it's a complete success. Once you've completed the first step, which is the placement of the implant post, you'll come back to our dental office to have the restoration placed. In between these stages, four to six months will be set aside to healing. The length of your treatment can vary depending on the number of implants being placed as well as the type of restoration being used.
Understanding the Cost of Dental Implants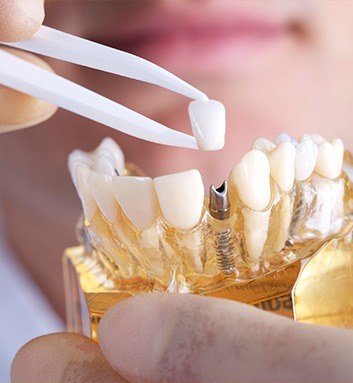 Dental implants are typically more expensive than other tooth replacement solutions, but you won't know exactly how much they cost until you have a consultation at our dental office. During this meeting, you'll be able to determine what costs will pertain to your unique treatment, including bone grafts, periodontal therapy, the number of implants you need placed, etc. These factors will all influence your overall cost.
Of course, it's worth noting that dental implants are meant to be a long-term solution for tooth loss. Because of their durability, they last much longer than other options and offer more restorative benefits overall. This classifies them as a worthwhile investment according to most dentists.