Dental Implants – Fort Smith, AR
The Most Comprehensive
Tooth Replacement Solution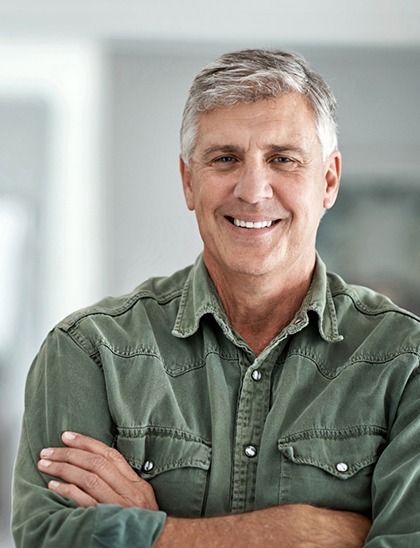 Over the last 50+ years, realistic tooth replacements have only become more accessible. Today, dental implants are widely considered to be the ideal tooth loss solution thanks to their longevity, durability, aesthetics and, of course, functionality. Out of all the options available, dental implants in Fort Smith, AR come the closest to resembling natural teeth. Dr. Gilberto López partners with the best oral surgeons in the area to ensure patients receive the highest standard of care. To learn more about what dental implants can do for your smile and overall quality of life, call our team at New Smile Dental today!
Why Choose New Smile Dental for Dental Implants?
Partners with Expert Oral Surgeons in Fort Smith
Friendly, Spanish-Speaking Dentist and Team
Low-Interest Dental Financing Available
What Are Dental Implants?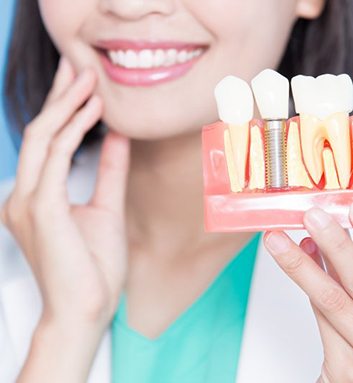 Traditional tooth replacements, like dental bridges and dentures, only recreate the crowns of the teeth – the part that you can see above the gumline. Dental implants go one step further by also replicating the tooth's root structure. They consist of three parts:
A biocompatible titanium post that is surgically inserted into the jawbone
A restoration (dental crown, bridge, or denture) that mimics your natural teeth
A metal abutment that connects the two
Just like the root of a real tooth, the dental implant fuses with the jawbone until they're fully attached. This process of osseointegration is what allows implants to feel natural, look incredibly lifelike, and last for decades!
The Dental Implant Process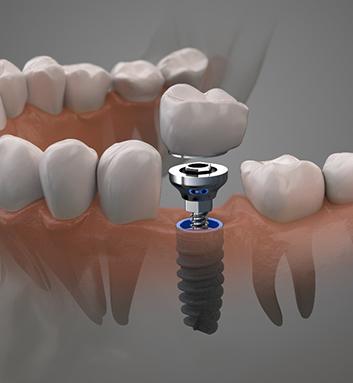 New Smile Dental partners with oral surgeons in the greater Fort Smith area to have your implants placed. We'll go over your treatment plan in great detail, both with you and your oral surgeon, to ensure that it will be a complete success. Once you've completed the surgical placement of the implant post, you'll come back to our dental office to have the restoration placed. In between these stages, three to six months will be set aside for healing. The total length of your treatment can vary depending on the number of implants being placed as well as the type of restoration being used. Rest assured that even though the dental implant process can take several months to a year or longer, your new teeth could potentially last a lifetime – making them well worth the wait!
Benefits of Dental Implants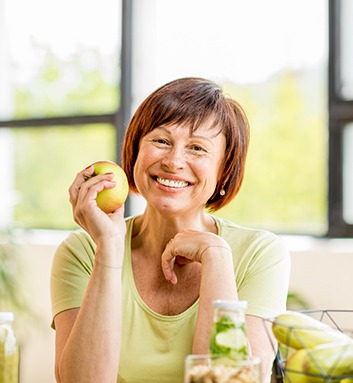 Because dental implants replace the crown and the root portion of your tooth, you can expect many restorative benefits that are impossible with traditional solutions. For example, as the implant integrates with your bone tissue, chewing feels more natural than ever before. This is because the titanium post is continuously stimulating your jaw, allowing you to regain up to 70% of your original biting force. Blood flow is also restored, which prevents your cheeks from prematurely sagging or hollowing out as a result.
Additionally, dental implants are extremely successful when placed by a professional. On average, the success rate of dental implants falls between 95% and 98%, largely because dentists and oral surgeons take all of the steps necessary to minimize complications. On top of that, dental implants can last anywhere between 25 years and a lifetime, which makes them an ideal long-term solution for tooth loss. Plus, unlike bridges, you don't need to remove existing enamel from neighboring teeth just to have them placed.
Who Dental Implants Can Help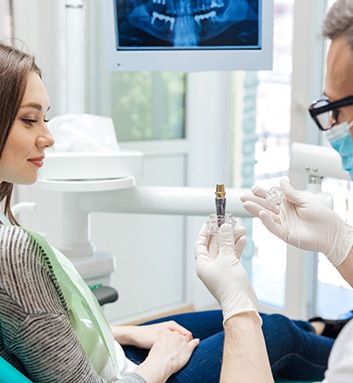 Dental implants can be used to replace teeth in a multitude of scenarios. It doesn't matter if you need to replace a single tooth or you've had a denture for many years and want to make it more stable; if you're a healthy adult who is missing teeth, chances are high that dental implants can meet your needs!
Missing One Tooth
To replace one tooth, a single titanium implant is placed inside your jawbone. After the implant heals, an abutment is placed on top, which connects the all-porcelain, lifelike dental crown to the abutment. This ensures that your smile fully looks natural after treatment.
Missing Multiple Teeth
Dental implants can easily be fitted with dental bridges. By using just two implants on either side of the bridge, you can effectively replace three to four consecutive teeth at a time. Since the implants are anchoring the bridge, you don't need to remove any existing tooth enamel to secure it in place!
Missing All Teeth
Implant dentures are one of the most popular options for replacing teeth because you only need four to six implants to hold an entire arch at a time. Plus, implant dentures can be designed to be removable or fixed, depending on your preference.
Understanding the Cost of Dental Implants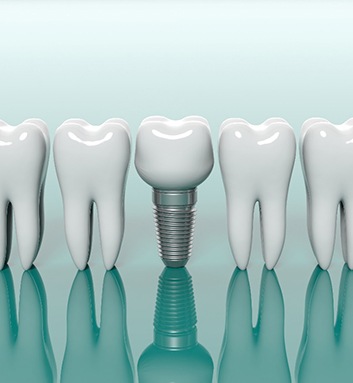 Dental implants are typically more expensive than other tooth replacement solutions, but you won't know exactly how much they cost until you have a consultation at our dental office. During this meeting, you'll be able to determine the factors that influence your overall treatment costs, including bone grafts, periodontal therapy, the number of implants you need placed, etc.
Of course, it's worth noting that dental implants are meant to be a long-term solution for tooth loss. Because of their durability, they last much longer than other options and offer more health benefits overall. This classifies them as a worthwhile investment according to most dentists.
Dental Implant FAQs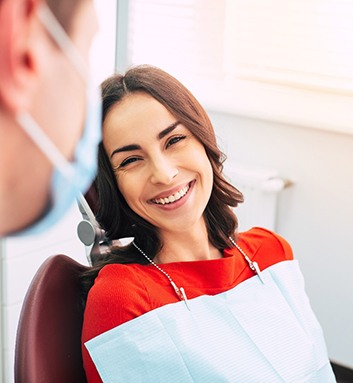 What do you know about the dental implant process? Below, you'll find a number of common questions that patients often ask when they're considering getting new teeth supported by dental implant posts. We hope the answers listed below clear up any concerns you might have, but if not, we invite you to reach out to us; we'll make sure to answer any question you have to your satisfaction before you commit to getting dental implants.
Are Dental Implants Safe?
Dental implants as we know them today were first placed in 1965; since that time, extensive clinical research and experimentation have shown them to be safe and reliable options for tooth replacement. The oral surgeons that we work with have dedicated years of study to the placement of dental implants, and they've performed the procedure many times in the past; your smile will be in good hands. Furthermore, risk factors like a lack of bone density will be identified and addressed long before implant surgery actually takes place, so the risk of failure will be kept as low as possible.
Will I Need a Bone Grafting Procedure Before Getting Dental Implants?
That depends on the state of your jawbone during your initial consultation. The jaw tends to break down after tooth loss due to the loss of stimulation. Thus, if you have been struggling with missing teeth for a while, then the odds are bone loss has already progressed to the point where there isn't enough bone tissue left for a successful dental implant procedure. However, if you are getting dental implants very shortly after losing your teeth, then there's a chance that bone grafting won't be required. Part of your initial consultation will be evaluating the density of the jawbone in order to determine whether bone grafting is a necessary step.
What Can Cause Dental Implant Failure?
A dental implant might fail if:
An infection occurs in the gum and bone tissue around the post, leading to bone loss and causing the implant to come loose.
The implant has failed to fully merge with the jawbone.
An injury has broken or otherwise damaged the implant post.
There are steps you can take to protect your implants, such as good oral hygiene, regular dental visits, and wearing a mouthguard to protect your smile while playing sports. That said, failure might occur on rare occasions despite your best efforts; call us immediately if you notice severe oral pain, swelling of the gums, or loose implant posts.
How Long Will It Take for Dental Implants to Heal?
It usually takes three to six months for the bone to fully join with the dental implant. The exact amount of time can vary quite a bit depending on the exact number of dental implants you need, the current density of your jawbone, and the overall healing capabilities of your unique body. We can give you a more precise timeframe after we've had a chance to examine your mouth more closely.
Maintaining & Caring For Your Dental Implants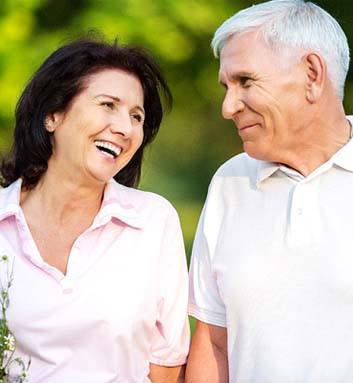 Do you want your dental implants to remain in place for decades or even a lifetime? Do you want to maintain functionality and experience an easier time eating and speaking when surrounded by others? Do you long to maintain a smile that makes you feel and look good? If so, you'll want to follow the directions provided by our dental team when it comes to dental implant care in Fort Smith. From learning how to properly care for your new teeth to forgoing bad habits and adopting healthier eating habits, you can discover effective ways to take better care of your smile and ensure its permanent placement for years to come.
Making Oral Hygiene a Priority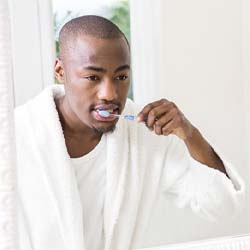 Brushing and flossing on occasion is no longer an option. Instead, you must be diligent in brushing twice a day for two minutes, using a non-abrasive toothpaste, flossing between meals, and rinsing with an ADA-approved mouthwash. This will eliminate bacteria and plaque that try to cause decay and gum disease, both of which can negatively affect your dental implants in Fort Smith.
Eating a Healthy Diet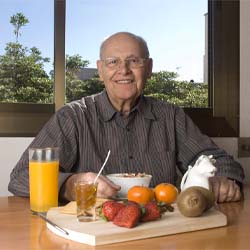 Sugars and starches may be your go-to snacks, but if you want to avoid peri-implantitis or other potential problems that can arise with dental implants, you'll need to adopt healthier eating habits. Leafy greens, lean proteins, low-fat dairy, fruits, and vegetables are all acceptable foods to incorporate into your diet. Not only will they work to strengthen your tooth enamel, but they'll also promote healthier gum tissue and reduce your risk for gum disease.
Breaking Bad Habits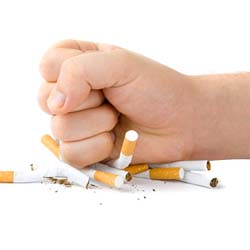 Bad habits are hard to break, but if you want to ensure the longevity of your new teeth, you'll remain committed to avoiding any of the following practices:
Smoking
Eating ice
Biting your fingernails
Chewing on inanimate objects (i.e., pens, pencils)
Using your teeth as tools to open packages and containers
Finding available resources (i.e., cessation groups), practicing mindfulness, and even keeping sugarless gum in your pocket, purse, or desk can help curb the desire to continue these bad habits. As a result, you'll better protect your dental implants from serious damage and a trip to the emergency dentist.
Protecting Your Dental Implants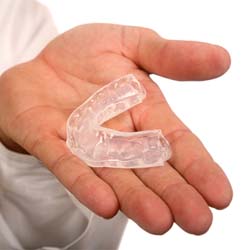 Along with giving up your bad habits, you should also plan to invest in a customized mouthguard. This special oral device safeguards your real and artificial pearly whites from serious injury whether you play sports or suffer from stress that causes bruxism. Teeth grinding or a hard hit on the field can lead to damaged teeth that require a visit to the emergency dentist's office and timely procedures to fix the problem. By wearing a uniquely designed mouthguard that fits comfortably and offers maximum support, you can reduce your risk for serious injury and instead, enjoy a beautiful, damage-free smile.
Scheduling Regular Dental Checkups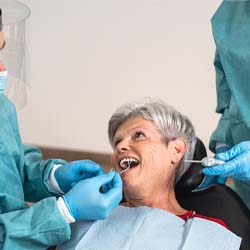 One of the most important steps you'll want to take when taking better care of your dental implants is to continue your regularly scheduled appointments with your implant dentist in Fort Smith. Apart from the necessary examination to ensure there are no signs of tooth decay, cavities, or gum disease, our team will review your dental implant posts and restorations to make sure they are damage-free and are permanently in place. Your implant dentist will help you to maintain your new smile for many years, giving you a greater chance of embracing a healthier, more fulfilling life.