What is Periodontal (Gum) Disease in Fort Smith, AR
Understand Causes &
Review Treatments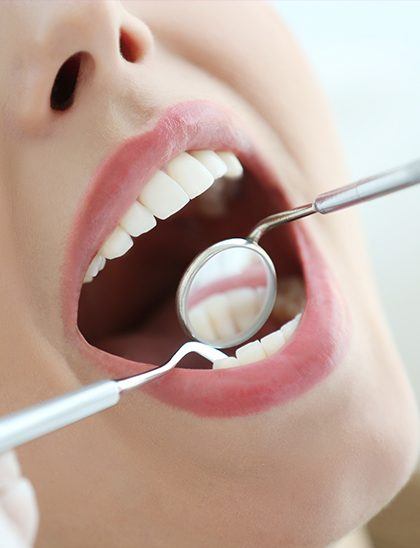 Periodontal disease is the inflammation of the soft tissues surrounding a tooth and the jawbone itself in more advanced stages. Also known as periodontitis or gum disease, it is often preceded by bacterial infection of the gum tissues known as gingivitis. Toxins produced by the bacteria in the gums irritate the surrounding tissues and cause inflammation. Once bacteria spread into the gum pockets between the teeth, controlling their growth and treating the inflammation becomes much more difficult. If left untreated, periodontal (gum) Disease can lead to teeth misalignment, tooth loss, and jawbone infection.
Periodontal disease has different types: chronic periodontitis, aggressive periodontitis, necrotizing periodontitis, and periodontitis caused by systematic disease. Therefore, the type of gum disease treatment offered by New Smile Dental is dependent on the kind of periodontal disease.
Prior to the treatment, Dr. López performs a complete periodontal examination to assess your gum and teeth condition. The findings and the recommended treatment are then discussed. The types of gum disease treatments include:
Scaling and Root Planing: This procedure is typically performed on mild periodontitis cases. A thorough mouth cleaning is performed to remove plaque and tartar, as well as bacterial buildup. The gum pockets are cleaned and treated with antibiotics to help control the infection and kill the bacteria. A prescription mouthwash may also be added into the daily cleaning routines of the client.
Tissue Regeneration: Grafting procedures are necessarily done when the surrounding tissues have been destroyed in order to activate the tissue regrowth process. Usually, a membrane is placed on the inflamed areas to initiate the regrowth.
Pocket Elimination Surgery: Also known as flap surgery, this dental surgery aims to reduce the size of the pockets in between the teeth and gums. Indentations on the jawbone can also be smoothed out through surgery to prevent the bacteria from infiltrating into the bones.
Dental Implants: Prosthetic teeth can be implanted in the jawbone when several teeth have fallen out due to periodontitis in order to restore aesthetics and function. Prior to this procedure, tissue regeneration may first be performed to strengthen the base of the implants.
Periodontitis is a progressive disease and therefore, early detection and treatment are necessary to prevent worse infections.