Porcelain Veneers – Fort Smith, AR
Perfecting Smiles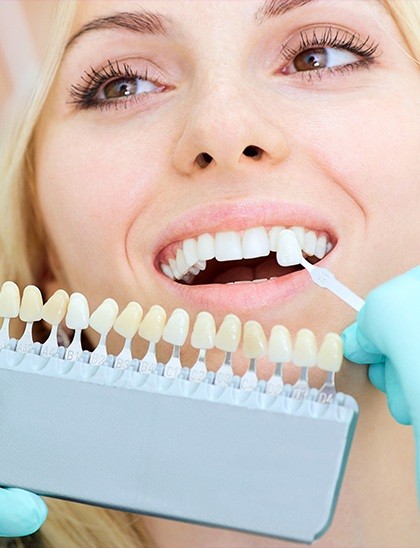 Porcelain veneers in Fort Smith, AR are a cosmetic dentistry procedure aimed to correct teeth that are chipped, deeply stained, or have slight alignment problems. They can also be used to fill in small spaces between the teeth. This procedure is relatively simple and can usually be performed in only one sitting.
The porcelain veneers used in cosmetic dentistry are very thin – generally about 0.5 mm in thickness. Porcelain veneers are bonded to the surface of the teeth using an ultraviolet light to harden this material. These veneers tend to look very natural without any dark lines surrounding them. They reflect light much in the same way as natural teeth do, so they are virtually unnoticeable once they are put into place.
Porcelain veneers are intended to be permanent, and most patients typically do not need to have these veneers replaced. They do not interfere with eating or drinking; in fact, many patients who have veneers placed on their teeth are able to chew better. This is because they may have avoided chewing with teeth that were chipped or broken before undergoing this cosmetic treatment.
Normal brushing and flossing are recommended for people who have porcelain veneers. It is also important to have routine dental check-ups to keep the rest of the teeth as healthy as possible. Those with porcelain veneers should avoid clenching or grinding their teeth, as this can result in damage to the material. Should problems with a veneer occur, Dr. López can easily repair the damage that has happened in most situations.
Since porcelain veneers are considered to be a cosmetic procedure, this dental treatment is normally not covered under most insurance plans. Dr. López realizes this and offers special financing for patients who elect to undergo this procedure.
Porcelain Veneers FAQs
When it comes to perfecting smiles, porcelain veneers offer the most stunning results. Choosing to improve your smile is a big decision, so it's natural to have some questions you'd like answered before committing to a treatment plan. Below, we've gathered some of the most common questions we get about porcelain veneers so you can learn more about them. If you don't see the answers you're looking for or you'd like to schedule a consultation, don't hesitate to give us a call today!
Are Porcelain Veneers Right for Me?
Porcelain veneers have long been a popular choice among celebrities and movie stars, but nowadays, practically anyone can benefit from this fantastic treatment. They're often used to correct issues like:
Minor chips and cracks
Stubborn stains or discoloration
Small gaps or spaces between teeth
Teeth that are slightly crooked or misshapen
You'll also need to be in good oral health before getting porcelain veneers. During your consultation, Dr. López will discuss your goals for your smile with you, review your oral health, and ensure that porcelain veneers are right for you.
How Long Does It Take to Get Porcelain Veneers?
Improving your smile with porcelain veneers can typically be done in two simple appointments. During your first visit, Dr. López will remove a thin layer of enamel (about the same thickness as a contact lens) and take impressions of your teeth. Then, we'll place temporary veneers and send you home while the impressions are sent to a local dental lab to create your permanent veneers. After a few weeks, you'll return to our office to have your temporary veneers replaced with your beautiful, custom-made ones. Once they're bonded into place and we've checked that your bite feels comfortable, you'll be ready to go out and show off your new flawless smile!
How Many Porcelain Veneers Will I Need?
Each porcelain veneer is precisely crafted to fit over the surface of a tooth, so you could technically use a single veneer to transform the appearance of just one tooth. However, we typically recommend getting an even number of porcelain veneers. Getting porcelain veneers on the front two, four, six, or eight teeth tends to provide the most seamless and beautiful results.
Are Porcelain Veneers Permanent?
When considering porcelain veneers, it's important to keep in mind that the procedure cannot be reversed. The enamel that needs to be removed in order to place the veneers on the front of the teeth does not grow back naturally. Since the enamel is what protects the sensitive inner layers of the teeth from damage and decay, these altered teeth will always need to be covered by veneers. Thankfully, your porcelain veneers should easily last you 10-20 years or more with the right care.
Are Porcelain Veneers Expensive?
Porcelain veneers are not typically covered by dental insurance, which can make them somewhat pricey. However, we want to make it as easy as possible for you to achieve the happy, healthy, and beautiful smile you deserve. That's why we offer flexible financing options through CareCredit. These low- to no-interest payment plans can help break up the cost of your treatment into affordable payments that easily fit into your monthly budget. During your initial consultation, we'll be happy to give you a personalized estimate for the cost of your treatment and review how to make your new smile affordable.