Porcelain Veneers – Fort Smith, AR
Perfecting Smiles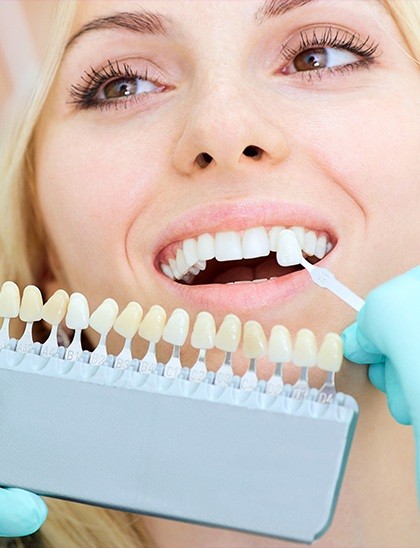 Porcelain veneers in Fort Smith, AR are a cosmetic dentistry procedure aimed to correct teeth that are chipped, deeply stained, or have slight alignment problems. They can also be used to fill in small spaces between the teeth. This procedure is relatively simple and can usually be performed in only one sitting.
The porcelain veneers used in cosmetic dentistry are very thin – generally about 0.5 mm in thickness. Porcelain veneers are bonded to the surface of the teeth using an ultraviolet light to harden this material. These veneers tend to look very natural without any dark lines surrounding them. They reflect light much in the same way as natural teeth do, so they are virtually unnoticeable once they are put into place.
Porcelain veneers are intended to be permanent, and most patients typically do not need to have these veneers replaced. They do not interfere with eating or drinking; in fact, many patients who have veneers placed on their teeth are able to chew better. This is because they may have avoided chewing with teeth that were chipped or broken before undergoing this cosmetic treatment.
Normal brushing and flossing are recommended for people who have porcelain veneers. It is also important to have routine dental check-ups to keep the rest of the teeth as healthy as possible. Those with porcelain veneers should avoid clenching or grinding their teeth, as this can result in damage to the material. Should problems with a veneer occur, Dr. López can easily repair the damage that has happened in most situations.
Since porcelain veneers are considered to be a cosmetic procedure, this dental treatment is normally not covered under most insurance plans. Dr. López realizes this and offers special financing for patients who elect to undergo this procedure.