Tooth-Colored Fillings – Fort Smith, AR
Creating Perfect Smiles
with Composite Fillings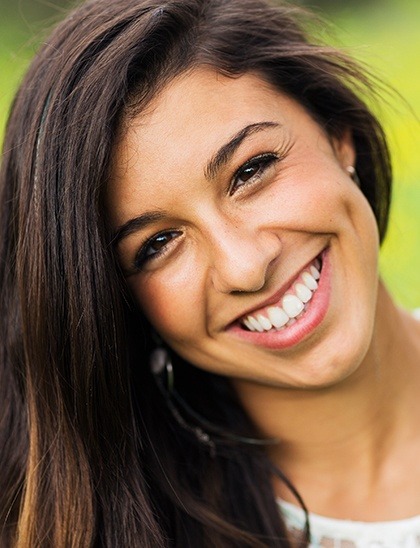 If you have a tooth that needs to be repaired due to decay or fracture, you may want to consider getting composite fillings. Tooth-colored fillings in Fort Smith, AR are made from a material that is the same color as your natural teeth, so the portion of your tooth that is damaged can be replaced with a material that matches the rest of the tooth. The most commonly used fillings today are composite fillings and silver amalgam fillings. Because silver amalgam fillings are visible, they are generally used on molars. At New Smile Dental, we only use composite fillings to achieve the top-tier esthetics patients look for in a beautiful smile as well as meet their dental needs.
Why Choose New Smile Dental for Tooth-Colored Fillings?
Comfortable & Gentle Dental Team
Metal-Free Materials Used
Family-Focused Atmosphere
Although composite fillings will eventually have to be replaced, they are very durable and will last for many years. Composite fillings can also help repair damage such as teeth that are broken or cracked or teeth that have worn down or become decayed. No matter your reason for getting them, composite fillings can help you feel more confident about your smile.
Generally, composite fillings can be placed in a single appointment. First, Dr. López will numb your gums, remove any decay from your teeth, and then clean the area to prepare it for the new filling. Next, he will place the composite filling and shape it to make it look like your natural tooth. Many patients experience sensitivity to hot or cold foods or liquids after a filling is placed. This is a normal experience, and it will generally subside as your new filling heals. After your new filling has been placed, the team at New Smile Dental will give you care instructions to prolong the life of your composite filling. With proper oral hygiene and regular visits to Dr. López, your new composite filling will last for many years to come.
For more information on composite fillings or the other services offered by New Smile Dental to patients in Fort Smith and Van Buren, AR, please call (479) 235-5271.
Tooth-Colored Fillings FAQs
When you want the perfect combination of esthetics with functionality, tooth-colored fillings offer a fantastic compromise for damaged teeth. Not only is the treatment very quick and relatively pain-free, but you can expect many years of protection, even compared to silver fillings! If you have questions about your future treatment, New Smile Dental is happy to help however it can. Feel free to peruse our frequently asked questions to see if yours is mentioned below.
Are tooth-colored fillings safe?
There is no health-risk associated with tooth-colored fillings, so you can expect your future restoration to not only look natural once placed, but not cause any harm to your existing enamel or other oral structures. With that said, you should still practice routine oral care to ensure the surrounding tooth does not break down and cause the filling to become loose. Furthermore, no dental filling lasts forever, which is why routine checkups are necessary to examine its current condition.
Can I replace my silver fillings with tooth-colored ones?
Absolutely! In fact, it's something we do quite often when a silver filling is either not protecting a tooth properly or is causing issues with the existing tooth. During your exam, we'll take a close look at your natural tooth, confirm the condition of the silver filling, then begin the process of removing it to make room for your tooth-colored replacement. Despite being known for their longevity, silver fillings have a tendency to cause problems when they become very old. These issues are not present in tooth-colored fillings because of the significant difference in materials used.
Don't fillings damage teeth?
The reality is dental fillings are designed to protect teeth from fracturing further and eventually needing a crown, root canal, or extraction. However, it's worth noting that metal fillings can lead to problems in the long-term. For example, because of the way silver amalgam fillings are designed, they can wedge inside of the tooth and cause it to split further apart, rather than keep the tooth intact. They can also lead to increased sensitivity when consuming hot or cold beverages. Composite resin fills cavities more effectively and in many cases does not even require removal of enamel to place, making them a more conservative option.
Does it hurt to receive a dental filling?
Our dentist provides a local anesthetic to patients before they receive dental fillings, ensuring that they feel no sensations during the actual procedure. Once the specific portion of your tooth and face is numbed, you can receive the filling with little to zero discomfort along the way. On top of that, the treatment only takes a single appointment to complete! Just make sure to follow all aftercare instructions provided by our dentist.
Can a filling fix all damaged teeth?
Not necessarily. The general rule of thumb is when a filling is taking up more than two-thirds of a natural tooth, a dental crown becomes a more effective long-term solution. At the end of the day, we want the best for your oral health, and sometimes that means choosing a more complex restoration over a simpler one.