Tooth-Colored Fillings – Fort Smith, AR
Creating Perfect Smiles
with Composite Fillings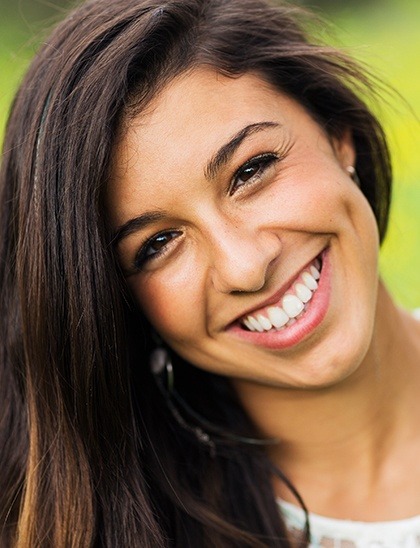 If you have a tooth that needs to be repaired due to decay or fracture, you may want to consider getting composite fillings. Tooth-colored fillings in Fort Smith, AR are made from a material that is the same color as your natural teeth, so the portion of your tooth that is damaged can be replaced with a material that matches the rest of the tooth. The most commonly used fillings today are composite fillings and silver amalgam fillings. Because silver amalgam fillings are visible, they are generally used on molars. At New Smile Dental, we only use composite fillings to achieve the top-tier esthetics patients look for in a beautiful smile as well as meet their dental needs.
Why Choose New Smile Dental for Tooth-Colored Fillings?
Comfortable & Gentle Dental Team
Metal-Free Materials Used
Family-Focused Atmosphere
Although composite fillings will eventually have to be replaced, they are very durable and will last for many years. Composite fillings can also help repair damage such as teeth that are broken or cracked or teeth that have worn down or become decayed. No matter your reason for getting them, composite fillings can help you feel more confident about your smile.
Generally, composite fillings can be placed in a single appointment. First, Dr. López will numb your gums, remove any decay from your teeth, and then clean the area to prepare it for the new filling. Next, he will place the composite filling and shape it to make it look like your natural tooth. Many patients experience sensitivity to hot or cold foods or liquids after a filling is placed. This is a normal experience, and it will generally subside as your new filling heals. After your new filling has been placed, the team at New Smile Dental will give you care instructions to prolong the life of your composite filling. With proper oral hygiene and regular visits to Dr. López, your new composite filling will last for many years to come.
For more information on composite fillings or the other services offered by New Smile Dental to patients in Fort Smith and Van Buren, AR, please call (479) 235-5271.