Dentures & Partials – Fort Smith, AR
Designing the Perfect Smile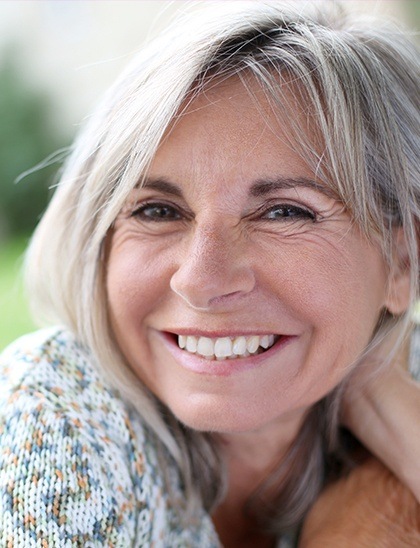 Custom dentures for Fort Smith, AR dental patietns are removable dental appliances designed as a replacement for missing teeth and surrounding gum tissue. They closely resemble real teeth, often to the point where most people cannot tell the difference. Both complete and partial dentures can be made by New Smile Dental. Complete dentures are needed when no natural teeth remain. True to their name, they are intended to completely replace the teeth. If any natural teeth remain, partial dentures are required. These only replace the teeth that are missing and are intended to fill in the gaps in the patient's mouth and improve their smile. Dentures are very durable since they have to serve as effective replacements for teeth. They do require regular maintenance and cleaning – much like real teeth – must be brushed and cleaned regularly.
When complete dentures are made, they are done so in one of two ways. Conventional dentures are made after all the teeth have been removed and the gum tissue has fully healed. Patients typically have to wait about four to six weeks before they can receive conventional dentures, and during this time, they must go without any teeth. Immediate dentures are prepared in advance and placed as soon as the teeth are removed. These have the advantage of providing the patient with a set of teeth, but since the dentures are used while the gums are still healing, they must be adjusted as the surrounding tissues heal and shrink.
The process of receiving dentures can be a lengthy one. It usually covers several appointments over a period of a few weeks. Since dentures by their nature must be customized, accurate molds of the patient's teeth and/or gums must be taken before the dentures themselves can be formed. Several appointments are usually made to make sure that these molds and measurements are accurate. The dentures should fit comfortably, although some patients report feeling some discomfort as they get used to wearing them. This is usually mild and goes away in time.
Denture FAQs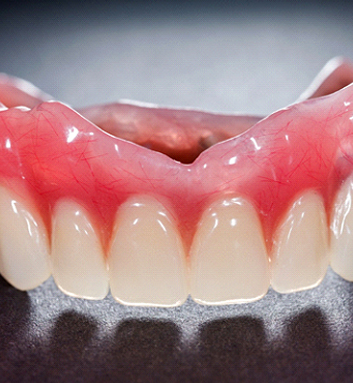 If you're like 35 million Americans, you probably never expected to suffer extensive tooth loss, but now you're living without any teeth. Although they have a bad reputation, dentures in Fort Smith are an affordable and effective solution. They've gone through several improvements over the years to mimic your natural teeth. We know you're sure to have several concerns before you're ready to commit to them. Here are the answers to a few of the most common questions we hear to help you make the best choice for your smile.
How much do dentures cost?
There isn't a set fee for dentures because their cost is determined by several factors, such as if you need additional procedures, the type of denture needed, and your dental insurance. Many insurance policies cover a portion of their cost, but you'll need to review your individual plan. We'll work on your behalf with your insurance carrier to reduce the amount you need to pay. We offer several payment options to cover any remaining balance, like third-party financing with CareCredit. We'll help you complete your smile without breaking the bank.
Should I Sleep in My Dentures?
Technically, you can sleep in your dentures; however, it isn't recommended. You should never wear your them for longer than 24 hours without maintaining your oral hygiene routine. It's best to remove your dentures at night to give your gums and mouth time to relax. When your denture isn't in your mouth while you're sleeping, it's best to soak it in a denture solution to keep it moist. This also kills any harmful bacteria that can lead to complications, like unpleasant odors.
Do Dentures Hurt?
After getting your dentures, it will take time to adjust to them. You might have some minor discomfort, but it will subside within a few days. The more you wear them, the shorter the transition period. If you develop any pain after you've had your dentures for a while, you might need to have them adjusted. Contact our office to have the issue resolved quickly to avoid causing irritation or injury to the gum tissue.
Is It Difficult to Remove Dentures?
Your dentures will stay in place for regular chewing and speaking, but they should be easy to remove if you use the right adhesive. Typically, you only need 3 to 4 pea-sized dabs per arch to hold your denture in place. If you're having difficulty removing it, try using a damp washcloth, wet toothbrush, or a piece of gauze.
Are Dentures Permanent?
Conventional dentures last about 5 to 7 years before needing to be replaced if you take the time to care for them properly. If you want a more permanent option, we can stabilize your denture with dental implants. Titanium implant posts anchor your denture to your jawbone to give you the next best thing to your real teeth. With the right aftercare, your dental implants should never need to be replaced to make a long-term investment in your smile.