Dentures & Partials – Fort Smith, AR
Designing the Perfect Smile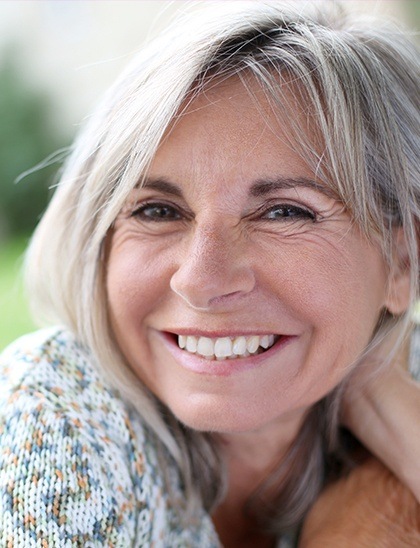 Custom dentures for Fort Smith, AR dental patietns are removable dental appliances designed as a replacement for missing teeth and surrounding gum tissue. They closely resemble real teeth, often to the point where most people cannot tell the difference. Both complete and partial dentures can be made by New Smile Dental. Complete dentures are needed when no natural teeth remain. True to their name, they are intended to completely replace the teeth. If any natural teeth remain, partial dentures are required. These only replace the teeth that are missing and are intended to fill in the gaps in the patient's mouth and improve their smile. Dentures are very durable since they have to serve as effective replacements for teeth. They do require regular maintenance and cleaning – much like real teeth – must be brushed and cleaned regularly.
When complete dentures are made, they are done so in one of two ways. Conventional dentures are made after all the teeth have been removed and the gum tissue has fully healed. Patients typically have to wait about four to six weeks before they can receive conventional dentures, and during this time, they must go without any teeth. Immediate dentures are prepared in advance and placed as soon as the teeth are removed. These have the advantage of providing the patient with a set of teeth, but since the dentures are used while the gums are still healing, they must be adjusted as the surrounding tissues heal and shrink.
The process of receiving dentures can be a lengthy one. It usually covers several appointments over a period of a few weeks. Since dentures by their nature must be customized, accurate molds of the patient's teeth and/or gums must be taken before the dentures themselves can be formed. Several appointments are usually made to make sure that these molds and measurements are accurate. The dentures should fit comfortably, although some patients report feeling some discomfort as they get used to wearing them. This is usually mild and goes away in time.