Digital X-Rays – Fort Smith, AR
Faster & Safer Dental
Diagnostics are Digital!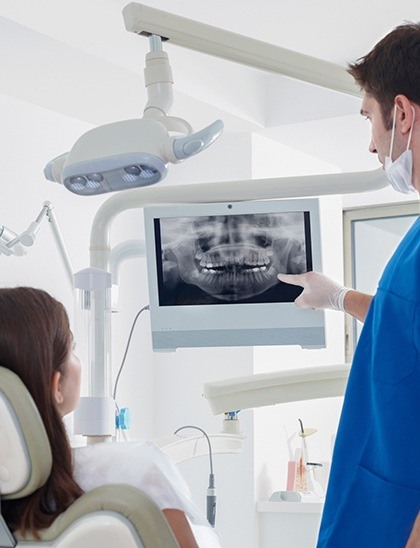 Dental X-rays are a very important part of routine dental care. In short, they are a valuable diagnostic tool that can allow Dr. López and a dental hygienist to see problems that often aren't apparent during a regular exam. It is very accurate and perfectly safe, making it one of the most valuable tools that any dentist can have. Some of the issues that dental X-rays might reveal include:
Abscesses
Bone loss
Tumors, both malignant and benign
Tooth decay
Developmental abnormalities
Problems in teeth roots
Early detection of these or other similar problems is very important since waiting too long to treat these issues can lead to other complications that can be very difficult and expensive to treat properly.
Many people are wary of dental X-rays because of the amount of radiation they can be exposed to, but modern X-ray machines such as the ones used in our Fort Smith, AR dental office are very safe and accurate. In fact, the amount of radiation exposure that a patient receives from a full series of dental X-rays is equal to the amount one receives every day from natural sources. Our dental team also takes precautions to further limit the amount of extra radiation that patients are exposed to during dental X-rays by providing lead apron shields and utilizing digital X-rays that require a shorter exposure time to produce an image than traditional X-ray units.
For many patients, dental X-rays are routine and are usually taken every six months as part of a check-up and cleaning. However, each patient is different, so the number of X-rays a patient will require depends on their individual health needs and medical history. Some patients may require more frequent dental X-rays than others. It is also recommended that all first-time patients receive a full series of X-rays, which is usually sufficient for three to five years.
For more information on dental X-rays or the other services offered by New Smile Dental to patients in Fort Smit, AR, please call us today.