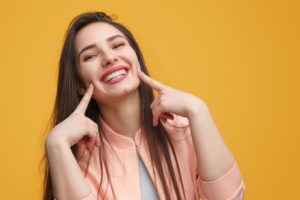 Your smile is one of the first physical attributes people notice about you. Whether it's in your personal or professional life, your grin can make impressions that affect how people perceive you. Studies have shown that with a beautiful set of pearly whites, you'll be thought of as younger, healthier, and more self-confident. Thankfully, your cosmetic dentist has some services that can give you the smile of your dreams. Keep reading to learn how some popular cosmetic treatments can transform your grin.
Dazzling Porcelain Veneers
If you have cracks, stains, chips, slight alignment issues, or other dental flaws, porcelain veneers are for you! These almost-magical, thin shells of dental porcelain are crafted to fit over the front surfaces of your teeth to conceal a wide-range of flaws. The best part is, you can choose the color, shape, and size of your veneers to get the smile you've always wanted.
Many movie stars in Hollywood turn to porcelain veneers to get a perfect smile because it's a fast and easy way to correct a number of imperfections. Plus, dental porcelain is stain-resistant, so it'll be much harder to discolor your new smile in the future.
Beautiful Teeth Whitening
Do you have stains, yellowing, or discoloration in your teeth? Whitening with your family dentist may be all it takes to deliver you the smile you're looking for. Unlike over-the-counter whitening strips and toothpastes that don't deliver results, professional teeth whitening can brighten your teeth up to 10 shades! This is done in the safest and most comfortable way possible, using customized and personal treatments for each patient.
Teeth whitening is especially popular during this time of the year because of the many photo opportunities and parties that people are faced with. This quick and easy service is well worth having a smile that's ready when the cameras start flashing.
Strong Porcelain Crowns
A porcelain crown is a cap that adds strength to your tooth and protects it from future decay, but it also maintains the natural look of your smile. If you have severely damaged or decayed teeth, visit your dentist to discuss getting porcelain crowns. These can last for years to come, and they will help maintain the look, feel, and function of your natural grin.
Does it sound like you could benefit from any of the services above? Talk to your dentist about getting a new smile for the new year, so you can always make the best impression.
Meet the Dentist
Dr. Gilbert Lopez brings over 25 years of experience to every patient he treats. He takes pride in providing services that help his patients look and feel great. He currently practices at New Smile Dental, and he can be contacted through his website or by phone at (479) 434-4277 for any questions you may have.