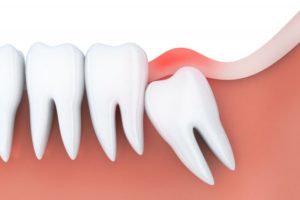 When it comes to your child's oral health, there is a good chance that at some point, they're going to need dental work of some sort. Whether it is a filling, braces, or having their wisdom teeth removed, you'll most likely be wondering about the cost before each procedure. Most insurance companies will cover a portion of the overall price, but find out from a dentist in Fort Smith what you can expect to pay for your child's wisdom teeth extraction.
Why Are Wisdom Teeth Removed?
In the days of cavemen, wisdom teeth, or also known as third molars, were necessary to eat. The food choices were minimal, which meant coarse fruits and vegetables and uncooked meat. These teeth helped chew and tear the food for consumption. Since that time, diets have changed (thankfully!), making these teeth less useful. With people no longer needing to use their wisdom teeth, jaws began to shrink, resulting in problems as these teeth try to make their way through the gum line.
If your child learns their wisdom teeth need to be removed, you can expect it to be because of one of the following reasons:
The mouth is too small for these teeth to come through with adequate space
There is a higher risk of developing cavities or gum disease because they have partially erupted
Severe pain due to impacted wisdom teeth
What is the Process for a Wisdom Tooth Extraction?
Extracting your child's wisdom teeth is a common dental procedure in which your dentist has performed numerous times. There are two types of procedures: simple and surgical, and it depends on the status of your child's wisdom teeth as to which one will be performed. Don't worry, your child will receive anesthesia to make sure they are comfortable and feeling no pain.
During a simple extraction, the dentist will use special tools to gently grasp the tooth that is partially erupted. With a gentle motion, he will move the tooth back and forth until it detaches.
If your child needs a surgical extraction, it will be necessary for the dentist to make an incision in the gums and expose the tooth structure. If necessary, he will remove the tooth in pieces to make it an easier process.
Will Insurance Cover the Cost of Wisdom Teeth Removal?
Whether your dental insurance will cover the cost of your child's wisdom teeth removal depends on a variety of factors, including:
The type of procedure: simple or surgical
The number of teeth being removed
Your insurance provider
Your dentist
Where you are located
There are other factors that come into play when determining the overall cost, such as anesthesia, X-rays, and the initial exam. Ultimately, the cost is dependent on many aspects, and patients can expect to see a cost that ranges in the low $100s to mid and upper $2-3,000.
Before making a decision regarding your child's dental procedure, make sure to receive a clear estimate from your dentist. This will help you determine if it's fiscally possible to have the extraction done. If not, find out if your dental professional offers any financing options that would allow you to break up your payments over time.
About the Author
Dr. Gilberto Lopez earned his doctorate from the University of Guadalajara. Believing it to be his personal mission to help his patients achieve optimal health and wellness, he and his team at New Smile Dental strive to make each person feel welcome and comfortable. When it comes to making decisions about you and your child's dental needs, Dr. Lopez will make sure you have all the information you need to feel confident about the treatment. Should your child need wisdom teeth removal, not only will you both receive essential information about the procedure, but the cost of treatment will be clearly defined. If you want to learn more about us and our services, contact us at (479) 434-4277.