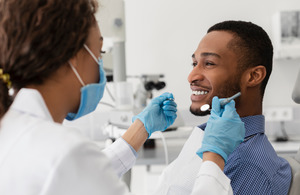 It's back to school season, which means that students of all ages are getting back in the scholastic mindset. You might be thinking a little bit more about passing your next exams, but have you wondered how your next dental exam is going to go?
Studies have shown that oral health problems can significantly affect academic performance, so taking good care of your teeth is an important part of being able to focus on academics. Here are a few things you can do to make sure that you ace your next dental exam.
Make Oral Health Routine
Of course, if you want your oral health to be the best that it can be, you should do a little bit every day. Simple things like brushing, flossing, and mouthwash use can break up the daily buildup of plaque and keep your gums free of bacteria.
If you feel like your dental hygiene isn't as good as it could be, you can always talk to your dentist about what your dental hygiene should entail.
Adopt a Tooth Healthy Diet
While routine dental care is important, you can also do a lot for your teeth just by cutting out some of the foods that do the most damage to your teeth. Sugary, sticky foods can contribute quickly to tooth decay, as can starchy snacks.
By adopting a more tooth-healthy diet, you can prevent the development of oral health problems and reduce how much oral hygiene is necessary.
See the Dentist More Often
One of the nice things about seeing your dentist often is that the more frequently you go, the better those appointments will be.
If you haven't been to the dentist in a long time, you'll be much more likely to need extensive cleanings or other restorative treatments. However, less will be necessary the next time you go to the dentist. So if you want to make your dental exams as easy as possible, there's no better time to get started.
About the Author
Dr. Gilberto López, dentistry isn't just a job. He has made it his personal mission to help his patients live the healthiest and happiest life possible. Throughout his 30+ year career he has been able to make a positive difference in the lives of millions of patients, and his passion today is greater than ever. To keep up with the latest in oral medicine, he is a proud member of both the American Dental Association and the River Valley Dental Association.
If you have any questions about your next dental exam, we can be reached at our website or by phone at (479) 434-4277.