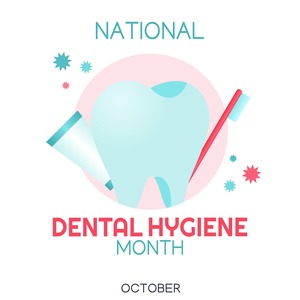 October is recognized as National Dental Hygiene Month, and it's an occasion well worth celebrating. After all, the role that good oral hygiene plays in keeping cavities and gum disease at bay cannot be understated. Are you giving your smile the best care possible? Below are 3 key dental hygiene habits that your dentist recommends adopting if they aren't part of your everyday routine already.
1. Brushing Your Teeth the Proper Way
Brushing your teeth is one of the first things you're likely to think of when you hear the words "dental hygiene." But even if you're already brushing two times a day, it's worth confirming that you're using the right techniques. Be sure to:
Brush for at least two minutes at a time.
Hold your toothbrush at a 45-degree angle to get rid of plaque near the gumline.
Use short, gentle back-and-forth strokes when brushing.
Thoroughly clean the tops of the teeth as well as the inner and outer surfaces.
Use your toothbrush on your tongue in order to get rid of harmful bacteria that might have built up there.
Your dentist may be able to give you some tips for better brushing during your next checkup. In particular, they can identify areas where plaque and tartar have built up in your mouth so that you know to pay extra-close attention to those spots moving forward.
2. Flossing Daily
Did you know that only 30% of Americans floss daily? Skipping this important dental hygiene step means that potentially harmful food particles and plaque between your teeth will go untouched, which can ultimately result in gum disease. As such, if you don't already floss, now is the time to get started.
Remember that traditional string floss is not the only thing you can use to clean between your teeth. Interdental brushes and water flossers can do the same job while also being easier to use. Consider your options carefully and choose the one that works best for you.
3. Rinsing with Mouthwash
Once you're done brushing and flossing your teeth, you should finish up your dental hygiene routine by rinsing with mouthwash. This can help you get rid of food debris that may still be present in your mouth. On top of that, mouthwash can go a long way toward helping you freshen your breath.
It's always worth taking the time to make sure that you're following the best dental hygiene practices. Talk to your dentist during your next appointment to see if there are any steps you should start taking to maintain a healthy smile.
About the Author
Dr. Gilberto López studied dentistry at the University of Guadalajara. He currently belongs to the American Dental Association, the Arkansas State Dental Association, and the River Valley Dental Association. He helps his patients protect their smiles with thorough checkups, gentle cleanings, and a wide range of dental services. To schedule a consultation with Dr. López at New Smile Dental in Fort Smith, visit his website or call (479) 434-4277.