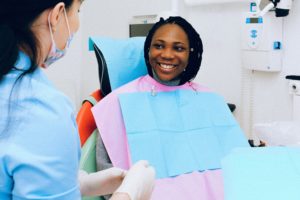 Now that the holidays are over, your life is about to get a little busier as you fall back into your daily routines and focus on your goals for 2023. It's easy to overlook scheduling your semi-annual cleaning and checkup, but you could be placing your smile at risk. Don't let a toothache interrupt your plans. Here are 4 reasons to have a dental checkup early in the year. 
1. Start the New Year with Healthy Teeth and Gums
The holidays can be a bad time for your oral health. Although the season only lasts for a few weeks, sugary treats, more snacking, and poor oral hygiene can lead to cavities or inflamed gums.
You may not notice any symptoms of tooth decay or gum disease yet, but your dentist can detect anything concerning while it's still a minor issue. A quick checkup will ensure the holidays don't come back to haunt your smile to start the new year with healthy teeth and gums.
2. Your Dental Insurance Benefits Have Reset
Your dental insurance benefits reset on January 1st. Although you have all year to use your coverage, less than 3% of Americans meet their annual limits. An appointment within the first few weeks of 2023 will give you more time to use your coverage to get the most from your monthly investment.
Your dental insurance gives you access to comprehensive dentistry for reduced rates. Preventive services are covered 100%, so you can get a cleaning and checkup even if money is tight. If your dentist finds an issue, don't worry. Common restorative services are covered up to 80% after reaching your deductible.
3. Reduce Your Overall Dental Expenses
The American Dental Association recommends a cleaning and checkup every 6 months to prevent common oral health issues, like cavities and gum disease. By doing so, you will preserve your natural smile, so you're less likely to need costly treatments later.
Every $1 spent on prevention can save up to $50 on restorative care. You'll have more money in your pocket by visiting your dentist regularly.
4. Reduce Your Risk of a Dental Emergency
1 in 6 Americans has a dental emergency annually. Many results from untreated oral health problems, like a cavity or a failing restoration. You can avoid a dental emergency by giving your teeth and gums the attention they deserve. Your dentist will ensure there aren't any issues hiding in your mouth that can cause a big problem later.
Don't put visiting your dentist on the back burner. Commit to a healthier smile in 2023 by scheduling your cleaning and checkup sooner rather than later.
About Dr. Gilbert Lopez
Dr. Lopez earned his dental degree from the University of Guadalajara and has regularly continued his education to provide up-to-date services. He is a member of many professional organizations, including the American Dental Association. Dr. Lopez focuses on prevention to help each patient achieve optimal oral health. If you need a cleaning and checkup, request an appointment through our website or call (479) 235-5271.