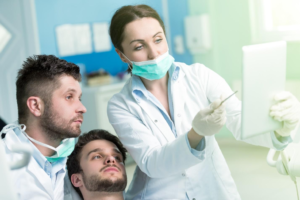 Dentistry, like most career fields, is constantly changing, growing, and innovating. Dentists who don't complete adequate continuing education can easily fall behind when it comes to offering the best treatment for patients. You may not think continuing education is that important, but as your dentist will tell you, keeping up with the latest techniques and technologies can make all the difference in the dental care they provide.

Types of Continuing Education
Your dentist may participate in several different kinds of continuing education. Most professional organizations, like the American Dental Association, require that their members maintain a certain number of continuing education hours each year. The majority of dental practitioners exceed this minimum. Some of the dental continuing education options a dentist can select include:
Required hours for membership in professional organizations

Additional education to learn new technologies

Advanced training or certification in a specific technique

Lifesaving certifications in CPR, dental sedation, and other safety and first aid services

Continuing education, seminars, hands on training, and/or research into an area of interest
Why Continuing Dental Education Matters
As recently as the 1950s, arsenic was used as a medicine. It's important to make sure your medical and dental care providers are in the know about the latest treatments. You may have heard your dentist refer to the office as a "practice." You may also have heard your mom or a coach saying that, "Practice makes perfect." Both of these things are true. Humans are imperfect (even your dentist!), but the more practice dentists get – the better treatment they offer for your smile! That may sound overly simplified, but it's true. General dentists do not typically perform complex treatments on a daily basis. Instead, completing continuing education gives them the opportunity to practice procedures they do not otherwise complete regularly.
How Continuing Dental Education Impacts Technology
Would you want to use a computer that was ten years old? How about a cellphone? Most people would say no to both, which just goes to show you how far technology has advanced in the last ten years. Technological advances have dramatically impacted the dental field as well. Without proper continuing education and research into the advances in dental technology, your dentist may not be providing you with the best quality of care. One significant example is in x-ray technology. Digital x-rays have transformed the way we perform the most basic dental checkups as well as improving advanced treatment planning and procedures. Without the need for chemicals to develop physical images or specialized light boards to view them, we can immediately share these images on chairside computer monitors. They can also be transferred instantly to specialists, insurance providers, or dental labs. Additionally, the electronic file is easily saved and compared with x-rays in the coming years.
Meet Dr. Lopez
Your Fort Smith dentist, Gilbert Lopez, DDS, is dedicated to completing continuing education each year that goes above and beyond what is required within the field. He is passionate about learning and growing as a dentist with the goal of providing patients with a wide range of dentistry services that meet all of their dental care needs. If you're new to Fort Smith or other nearby communities, we invite you to contact Dr. Gilbert and the rest of our team at New Smile Dental to find out more about what makes our office so unique. You can also check our blog regularly to learn more about available treatments.
Continuing Dental Education