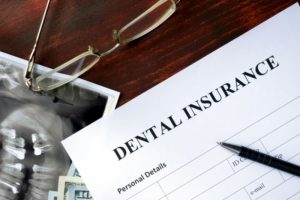 Did you know that each year, billions of dollars in dental insurance benefits are wasted? That's because people don't know how to take advantage of their annual maximum. This is the maximum amount that your dental insurance plan is willing to pay for your dentistry in one year. If you don't use up this money, it's gone forever. With half of the year gone already, it's important to see your dentist to maximize your benefits before they've disappeared with 2019. Keep reading to learn how to take advantage of your dental insurance and why it's important to attend preventive checkups and cleanings.
What Dental Services are Covered by Insurance?
Each dental insurance plan is different, so it's important to check with your company on what your specific coverage is. However, most insurance plans will cover:
100% of the cost of preventive services like checkups and cleanings
70-80% of the cost of basic restorative care like fillings
50-60% of the cost of more extensive restorations like dentures or crowns
Understanding the way this coverage works can help you save money and keep your teeth healthy. Insurance plans tend to favor preventive care because it protects you from more extensive and expensive dental work in the future.
Why is Preventive Care Important?
Preventive care (your routine checkups and cleanings) are vital to your oral and overall health. These appointments not only ensure the health of your teeth and gums, but your dentist will check for oral cancer, making this visit potentially lifesaving. Even those with an amazing at-home brushing and flossing routine can't reach all areas of the mouth, which leaves a skilled hygienist to clean away this lingering plaque and tartar. Additionally, these checkups give your dentist an opportunity to catch problems while they're still small, preventing more serious issues from occurring down the road.
How Can I Maximize My Insurance Benefits?
The key is to see your dentist early in the year. After, you will have a better idea of the condition that your oral health is in, and you'll know what type of dental treatments may be necessary. From there, you can plan out the way you are going to utilize your annual maximum. For example, if you know that you need extensive dental treatment, you can start your dental care in December, finishing in January to minimize your out of pocket costs and maximize your benefits.  Preventive visits are typically covered 100%, which is a great reason (in addition to your health) to visit your dentist biannually for checkups.
When's the last time that you took advantage of a routine checkup and cleaning? Request an appointment with your dentist in Fort Smith to keep your smile and pocketbook as healthy as possible.
Meet the Dentist
Dr. Gilberto Lopez is a highly educated dentist with over 25 years of experience. He currently practices at New Smile Dental, where he takes pride in accepting a variety of dental insurance plans to give patients quality dentistry that is also affordable. For any questions, he can be reached through his website or by phone at (479) 434-4277.