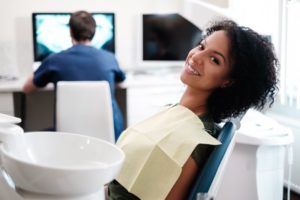 Did your dentist recommend getting fillings for cavities during your last appointment? It may be tempting to put off this treatment—if you're not in pain, why do you need fillings? However, unlike other medical conditions that can get better with time, dental issues will only grow worse, eventually leading to more costly and involved procedures. Plus, getting your fillings before the year ends will actually save your money. Read on to see why you shouldn't wait to see your dentist in Fort Smith!
What Happens if You Don't Get Fillings?
Fillings are one of the most common treatments available—it's estimated that over 90% of Americans have had at least one cavity. During each of your routine checkups, tooth decay is detected and treated accordingly. However, if you don't receive a filling, the decay can quickly get more severe and even lead to an infection. Now, instead of simple fillings, you may need root canal therapy and a dental crown. If you still let this issue persist, your entire tooth might need to be extracted. These options are far more extensive and expensive than the original filling that was recommended, which is why it's always best to get treatment as soon as possible.
The Benefits of Seeing Your Dentist Before New Year's
Besides the significant benefits of keeping your smile intact and your oral health in tip top shape, seeing your dentist sooner rather than later can also help you save your hard-earned money. Most dental insurance providers have an annual maximum, which is the most they're willing to spend on your dentistry in one year. What they don't tell you is that this number resets on January 1st, wasting any unused benefits. Not only are fillings usually 70%-80% covered by insurance but getting treatment before the new year will maximize the benefits you've already paid for in 2020.
How to Prevent Cavities in the Future
Thankfully, there are some steps you can take to minimize your risk of cavities, including:
Brushing your teeth twice a day for two minutes each session while using fluoridated toothpaste
Flossing once a day to remove lingering food debris and plaque
Cutting down on extra sugary, sticky, and hard sweets
Drinking lots of water to wash away sugars and bacteria in your mouth
Using a nonalcoholic mouthwash to clean areas of the mouth you couldn't reach with brushing or flossing
Attending regular checkups and cleanings
Are you ready to protect your oral health and your wallet? Don't hesitate to visit your dentist for fillings before the end of the year!
Meet the Dentist
Dr. Gilberto López has over 25 years of dental experience, preventing and detecting cavities in patients of all ages before they get more severe and costly. He offers all the services you and your family need, and he's proud to accept dental insurance to make treatments as affordable as possible. If you have any questions, he can be contacted through his website or by phone at (479) 434-4277.