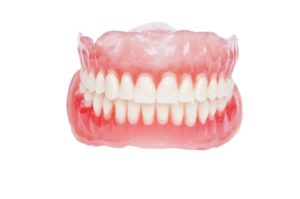 Your teeth are made to last a lifetime with the right care. However, all too often, tooth loss occurs. When your smile is incomplete, it causes you to feel insecure while also decreasing your quality of life. You can no longer speak clearly while you often find yourself avoiding your favorite foods because they become too difficult to chew. Not to mention, your oral health will also decline. To regain a complete smile, 15% of those with missing teeth turn to dentures every year. As an affordable and convenient means to fill the empty space, your dentist Ft. Smith has the solutions you need.

Consultation Process
Prior to replacing your missing teeth, you will require a comprehensive consultation. Your oral health will be accessed to determine if your gum tissue is healthy and to evaluate the condition of your underlying bone. Images and a visual examination will be conducted to determine your exact needs, such as if you need partial or full dentures. In some cases, you may need additional procedures prior to replacing your teeth, such as tooth extractions.
Partial Dentures
If several of your natural teeth are missing, you may be a candidate for partial dentures. Prosthetic teeth are attached to a gum-colored base to fill the space. It features a metal framework, which attaches to the adjacent teeth to hold it in place.
Complete Dentures
When all your teeth are missing on one or both arches, complete dentures will be needed. Custom-made prosthetic teeth are held in a gum-colored base that is made using impressions of your mouth. It is then held in place using a denture adhesive. Now, several advancements have been made to enhance their comfort while making the look more like natural teeth.
Enjoy Your New Smile
Dentures are an affordable, convenient, and effective solution to treat your tooth loss; however, they are not a permanent solution. As your gum shrinks and you lose bone density, you will need to have adjustments made to ensure they continue to fit well and function as intended. About every 5 to 10 years, you will need to have new prosthetics made to maintain your complete smile. With the proper care, you can help to promote the longevity of your new teeth.
If you are interested in a more permanent solution, there are also implant-retained dentures available. These are similar to traditional dentures, but use dental implants to hold them in place, allowing them to last for a lifetime.
Get a New Smile Today
If you are ready to smile with confidence, it is time to replace your missing teeth with dentures. You will invest in your oral health and quality of life with a convenient and effective solution.
About Dr. Gilbert Lopez
Dr. Gilbert Lopez has made it his personal mission to deliver high-quality dental care to patients of all ages. In addition to preventive dentistry, he offers the solutions necessary to rehabilitate dental health and functions. He uses the most advanced technologies to replace missing teeth with dentures. If you are interested in tooth replacement solutions, contact New Smile Dental to schedule a consultation.