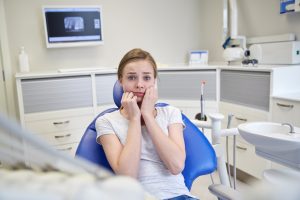 When your child needs to have a tooth removed, whether it's a wisdom tooth or for orthodontics, it can seem scary or overwhelming. They may feel fear or anxiety about their appointment, which in turn is stressful for you. The good news is that with a trusted team on your side, you and your child will have nothing to worry about. Dr. Gilbert Lopez, your family dentist in Fort Smith, can perform dental extractions, and our goal is to make the process as smooth and stress-free as possible!
When Does my Child Need Their Wisdom Teeth Extracted?
Wisdom teeth are the last set of molars to arrive around the ages of 18-25. They come in at the very back of your mouth, behind your first two molars, and this is why they're also known as third molars. When wisdom teeth arrive in a good position, with plenty of space, there may be no need to have them extracted.
There are however, a number of circumstances that can occur where they would need to be removed such as:
There may not be enough space for your wisdom teeth, which means they may begin to crowd your other teeth and cause shifting and bite misalignment.
They could remain impacted, or stuck below your gum line, which could lead to an infection.
Because they're so far back in your mouth, they may be hard to keep clean, which increases your risk for developing gum disease or tooth decay.
Dr. Lopez can help determine if it's necessary for your wisdom teeth to be extracted with an x-ray taken during your regular six-month checkup.
What's the Extraction Process Like?
Most patients are pleasantly surprised at how easy their extraction procedure actually was. Dental anesthetics are used to ensure that you don't feel anything except slight pressure during your procedure, and Dr. Lopez is not only highly skilled, but also gentle. For our patients who feel fear or anxiety about their treatment, we also offer nitrous oxide, which is a breathable gas that works quickly to help you relax during your appointment.
Our team will provide detailed instructions on how to make the recovery process more comfortable, and we're here to answer any questions you may have during the process.
Contact New Smile Dental
To learn more about having your wisdom teeth in Fort Smith extracted, or to have your child evaluated, contact our office today.