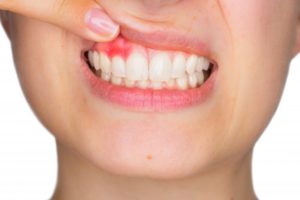 Recent studies show a staggering number of people are suffering from gum (periodontal) disease, a condition that leaves the soft tissue swollen, red, tinder and easy to bleed. Periodontal disease shouldn't be taken lightly because it can have serious effects on your oral health. Learn why healthy gums are important and how gum disease therapy can restore them to normal.
Why are Healthy Gums Important?
Having healthy gums is just as vital to the wellness of your teeth as nutrient-rich soil is to vegetation. The main nemeses to your gum health are bacteria. They are always present in your mouth, but they become especially active and reproductive when there is sugar present.
Here are two tips to keep in mind for protecting your teeth and gums:
Oral Hygiene – One of the best ways to prevent bacteria growth is to practice consistent and thorough oral hygiene. It should include brushing and flossing your teeth at least two times a day.
Dentist Visits – Along with consistently and effectively cleaning your teeth, you still need to visit your dentist semi-annually for cleanings and checkups to remove built-up plaque and tartar and to make sure there are no issues developing.
Symptoms of Gum Disease
If the above suggestions are ignored, you could develop gum disease, the first stage of which is gingivitis. Some of the possible symptoms are sensitive teeth, gum recession, a bad taste in the mouth, bleeding gums and chronic bad breath.
How to Treat Gum Disease
The type of treatment you receive for gum disease depends on the severity of the condition. In the earlier stages of the disease, you may simply need to make corrections in your oral hygiene regimen.
For more acute cases, your dentist may recommend a non-surgical procedure called scaling and root planing, which involves clearing away bacteria from beneath the gums and smoothing the teeth roots to prevent future accumulation. You may also be given a protocol to follow at home that includes using a prescribed antibiotic solution.
Why Being Proactive is Better
Your chances of fully recovering from gum disease and preventing tooth loss are much better when you take more proactive measures. If you notice any of the above symptoms for gum disease, then you should contact your local dentist to schedule a visit. With timely treatment and adherence to the restoration plan you're given, you'll be able to enjoy fully-recovered oral health.
About the Author
For over 25 years, Dr. Gilbert Lopez has been providing the best in dental care. A graduate of the University of Guadalajara, throughout his career, he has remained passionate about helping his patients experience the best in oral health. To stay abreast of the latest information in the world of dentistry, Dr. Lopez maintains membership with the American Dental Association and the Arkansas State Dental Association. He restores gum health at New Smile Dental, and he can be reached for more information through his website.