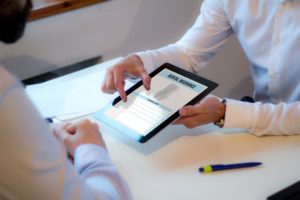 As the end of the year draws closer, it's prime time to take full advantage of your current dental insurance. But first, you need to know what all it covers. To help out, your local dentist explains how most dental insurance plans are structured. Continue reading to get a quick breakdown!
How Most Dental Insurance Plans Work
Usually, dental insurance plans are structured in a 100-80-50 manner. The following explains how it all works:
Preventive Care (100)
In most cases, plans will cover up to 100% of the cost of two preventive care visits each year. This includes the cost of X-rays, cleanings and checkups.
The value doesn't stop there, though. These visits allow the dentist and hygienist to catch any dental issues early so that a plan of action can be created to treat them. They also offer educational benefits, as you'll be able to get pointers from trained professionals.
Basic Care (80)
If you find out that you have a cavity that requires a filling, it falls under the classification of basic care. In most cases, dental insurance will cover up to 80% of the cost of the procedure. In some instances, coverage may be reduced slightly if you decide to go with tooth-colored fillings.
Major Care (50)
Often, a painful toothache will require a root canal to restore oral health. A more complex procedure, it may be classified as major care. That means you can expect to pay up to 50% of the cost out-of-pocket.
The Importance of Taking Action
Your dental insurance will reset at the beginning of the new year. That means that any unused benefits will be lost. Given that you pay a monthly premium to maintain your coverage, the last thing you want to do is let it go to waste.
Here are some ways to avoid that happening:
Visit now for preventive care – By taking advantage of preventive care, you don't have to be blindsided by a sudden dental flare-up.
Have any necessary procedures done – Instead of waiting to receive treatment later, starting now will allow you to take full advantage of your coverage. Then, if more work is needed, you can schedule it for next year.
Inquire about work you're considering – Maybe you've been thinking about getting some additional work done. Getting in now for a visit will allow you to have your oral health fully assessed so you'll know exactly what to expect.
As the old saying goes, "Knowing is half the battle." Now that you're more aware, the next step is to reach out to your dentist in Fort Smith. Fantastic oral health will be your reward!
About the Author
Dr. Gilberto Lopez earned his dental degree from the University of Guadalajara. With over 25 years of experience treating patients, he still remains an active learner. Thus, Dr. Lopez takes several hours of continuing education each year. He combines his kind demeanor and wealth of knowledge to provide his patients with the most well-rounded care possible at New Smile Dental, and he can be reached for more information or to schedule a visit through his website.