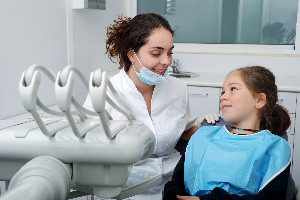 Why should you get routine check-ups and cleanings at New Smile Dental? Besides preventing gum disease and cavities in Fort Smith, these appointments allow Dr. Gilbert Lopez to assess other factors associated with oral health. Patients have stronger, more attractive smiles because of these regular, careful evaluations.
What Happens During a Check-up
First, your friendly hygienist at New Smile Dental will clean your teeth, gently scraping away accumulated plaque and tartar. These "biofilms" contain harmful bacteria which literally corrode tooth enamel and infect gum tissue.
She also checks gum pocket depth (the space between roots and gums) with a small periodontal probe. Gum pocket depth greater than 3 mm indicates active gum disease, or periodontitis, a major contributor to tooth loss in the US. Plus, research links periodontitis with overall health problems such as osteoporosis, heart attack, dementia and diabetes.
Additionally, the hygienist polishes the teeth. She takes digital X-rays as needed so the doctor can look at root and bone structure, check tooth and jaw development in young patients, and target hidden areas of decay.
Then, Dr. Lopez performs several basic assessments such as:
Visual inspection for tooth decay
Additional periodontal probing as needed
Examination of tooth alignment, bite and jaw joint function
Oral cancer screening
Inspection of existing restorations and prosthetics
The oral cancer screening is fast and comfortable. It gives both doctor and patient assurance that gums, tongue, lips and other soft tissues have not fallen prey to this common, and often deadly, malady. Caught at its earliest stages, oral cancer has a cure rate of 80 to 90 percent, says the Oral Cancer Foundation.
Longevity of Existing Dental Work
Dr. Lopez and his team encourage people who have fillings, crowns, bridgework, partial dentures, dental implants, porcelain veneers and other restorative and cosmetic treatments to take very good care of their teeth at home. Daily flossing and twice daily brushing as advised by the American Dental Association keep enamel and gums strong and free from plaque. It also halts accumulation of biofilm around restorations, keeping them in good condition longer.
For instance, dental implants are threatened by an infection similar to advanced gum disease. This problem is called peri-implantitis; smoking and neglected oral hygiene at home and in the dentist's office are the main culprits.
Additionally, your dentist's careful examination can spot problems with dental crowns in Fort Smith and can prevent lost fillngs in Fort Smith, along with other dental emergencies, such as cracked or abscessed teeth. Dr. Lopez often recommends plastic sealants and fluoride treatments to ward off tooth decay in patients of all ages, and of course, athletic mouthguards are a must for anyone who is very physically active.
Come See Us
At New Smile Dental, Dr. Lopez desires excellent oral health and great smile aesthetics for all his patients. He firmly believes that preventive dental services are the best path to that goal. If you would like to set-up a semi-annual dental check-up and cleaning, contact New Smile Dental in Fort Smith today to speak to an office team member. Ask about our $100 back-to-school special and $59 new patient exams and x-rays.