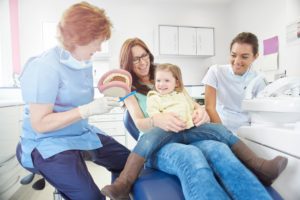 Whether you just moved to a new city or your previous dentist just didn't work out, you're in need of a new family dentist. You need someone both you and your kids will love, and who will provide excellent care to the whole family. Finding the right family dentist in Fort Smith is the key to having great oral and overall health. That's why we've put together this guide on how to choose a dentist who is perfect for you and your family.
Are They in a Convenient Location?
Take a look at Google Maps near the dentist's office. Are they close enough to your work or your child's school that driving there wouldn't be much of an issue? Whether you're having a dental emergency or just a regular six-month checkup, you don't want to have to drive far. If you can find a family dentist close enough to swing by before or after work or school, that's a huge bonus.
Do They Accept Emergency Appointments?
As a parent, you already know that accidents happen, and dental emergencies are no exception. Let's say your kid falls down and knocks out their front teeth on a Friday evening. Do you want to wait until Monday morning to get it treated? No!
The best dentist offices will at least have an answering machine detailing what to do during common dental emergencies like a dislodged tooth. If they're open, they should also offer same-day emergency appointments for you and your children.
Do They Love Kids?
Speaking of children, does your potential dentist cater to kids? It will be very easy to determine the answer to this question by walking into the office and looking around. Are there things like toys, games, and coloring books in the waiting room?
However, there are other qualities that you can't really discern from a quick look around the waiting room. Does the dentist do everything they can do soothe children's dental anxieties? Do they have a friendly demeanor? Before you book an appointment, you might want to watch how the staff at the office interacts with children.
Getting your family's teeth cleaned is important for everyone's dental health as well as their overall health. Hopefully by asking yourself these questions, you can find a dentist who treats you like a member of their own family!
About the Author
Dr. Gilberto Lopez is a dentist in Fort Smith, AR who treats patients of all ages. For more than 25 years, he has been treating and educating his patients about their dental health. He maintains active memberships in the American Dental Association, the Arkansas State Dental Association, and the River Valley Dental Association. To find out if Dr. Lopez is the right dentist to treat your family, you can contact his practice at (479) 434-4277.