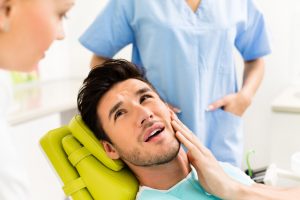 Prevention is the main goal of every family dentist, including Dr. Gilbert Lopez, of New Smile Dental. Partnering with each patient, Dr. Lopez and his talented team work toward optimizing oral health and preserving as much natural tooth structure as possible. However, sometimes wisdom, and other, teeth require extraction in Fort Smith. Learn the reasons behind this in-office procedure, how it's done and what recovery involves.
Reasons for Tooth Extraction
Oral examination and digital X-rays confirm the need for tooth extraction. Here are some of the most common:
Irretrievable tooth fracture due to oral injury
Severe dental abscess, or infection, not treatable with root canal therapy in Fort Smith
Impaction of wisdom teeth, or third molars, in the gum tissue or bone
Advanced gum disease, or periodontitis, which has compromised underlying gums and jaw bone
Baby teeth intruding on proper eruption of adult teeth
Advancement of orthodontic treatment (teeth may be crowded)
Extensive tooth decay extending to the root structure and bone
Placement of dentures when multiple teeth are missing or failing
Whatever the reason, Dr. Lopez and his team work to make the patient comfortable during extraction and also offer solutions, such as fixed bridgework and full and partial dentures, to restore smile function and aesthetics.
Kinds of Extractions
Some tooth extractions are more difficult than others. During a restorative dentistry consultation, Dr. Lopez determines the best way to extract a worrisome tooth, considering optimal patient comfort and recovery. Basically, there are two types of extractions:
Simple extraction Usually needing nothing more than local anesthetic to numb the area, this common procedure involves use of a tool called an elevator. With the elevator, Dr. Lopez gently rocks the tooth back and forth to loosen it. Then, he employs dental forceps to grasp the tooth and remove it from the socket. He often instills antibiotics in the socket and stitches the area closed.
Surgical extraction This procedure may require local anesthesia, nitrous oxide or other method of sedation to make the patient relaxed and comfortable. After incising the gums, the dentist often removes the tooth in pieces depending on its condition (it could be fractured or impacted in bone) and location.
Recovery from Extraction
Dr. Lopez is known for his gentle and compassionate care. He ensures his extraction patients are driven home from their procedures by a friend or loved one and urges the following at-home care:
Bite on gauze for 30 minutes to one hour to stop bleeding.
Use over the counter acetaminophen or ibuprofen for pain.
Take antibiotics if prescribed.
Refrain from smoking or drinking from a straw for at least 24 hours post procedure.
Start with a clear liquid diet and advance to soft foods (mashed potatoes, soups) over the first two days.
Don't brush for 12 hours, completely avoiding the extraction area for the first day.
Drink plenty of water.
Gently rinse the mouth with salt water the first day.
See Dr. Lopez for follow up as needed.
Call the office if bleeding does not stop or recurs.
Don't Wait
If you are concerned about the health of a tooth, please contact New Smile Dental in Fort Smith right away. Dr. Lopez will make you comfortable and get you healthy and smiling again!