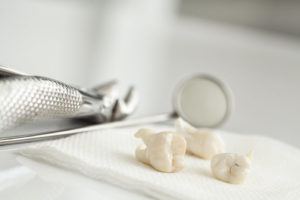 Wisdom teeth. They're something that almost everyone has had to deal with, but hardly anyone knows what to say about them. For most people, their experience with them begins and ends during their teenage years when they are removed. If you're the parent of a teenager, you've probably had a conversation with your child's dentist about how it's time to start thinking about having theirs removed. However, for many parents, the thought of subjecting their child to a tooth extraction can be scary, which causes them to wonder whether or not the process is truly necessary. In this article, you'll learn more about wisdom teeth, whether or not they really need to be removed, and what the extraction process is like at New Smile Dental.
What Are Wisdom Teeth?
Wisdom teeth are just a third set of molars. There's nothing particularly "wise" about them. Their name simply refers to the fact that they come in later in life when a child is supposed to be wiser. The only difference between them and other molars is their size, as wisdom teeth are the largest molars.
Do Wisdom Teeth Always Need To Be Removed?
A small percentage of the population has enough room in their mouths to keep their wisdom teeth. For most people, this is not possible. Because the teeth are so large, they have the ability to push other ones out of the proper position and damage gum and bone tissue. In some cases, the teeth won't even have enough space to be able to emerge from the gums. This situation can lead to infections and cysts inside a person's mouth.
Before recommending surgery, a dentist will utilize X-rays to determine whether or not there is enough room for the wisdom teeth to erupt properly.
What Is The Tooth Extraction Process Like?
Once you decide to have your child's wisdom teeth extracted, their oral surgeon will examine their mouth to ensure that there are no other conditions present that could create complications during the procedure. If everything looks good, a surgery date will be set.
On the day of the procedure, you will need to come with your child . Once they're seated in the dental chair, they will be given some type of sedation so that they won't feel or remember a thing about the procedure. Once it takes effect, the oral surgeon will begin the process of removing their wisdom teeth. The whole process takes less than two hours. The sedation doesn't wear off immediately, so you will need to drive your child home when the procedure ends.
What Is The Recovery Process Like?
Recovering from wisdom teeth removal takes about two weeks. During the first few days, the areas around the extraction sites will be slightly tender and swollen. In many cases, the oral surgeon will provide you with a prescription for pain medication to help make the recovery process easier. Generally, any mild pain and swelling will subside a few days after the surgery is over. If they don't, you will need to contact your child's dentist.
It's important that your child relaxes in the days after the surgery so their body can focus on recovery. They'll need to eat only soft or liquid foods in the first few days after the extraction to avoid damaging the exposed tooth sockets. Gentle brushing and flossing, combined with salt water rinses, will allow them to keep their mouth infection free while they heal. They will also need to change the gauze in their mouth regularly.
Wisdom teeth removal is not something anyone looks forward to, but it's important to get it done to prevent serious dental problems from developing in the future. If you're concerned that your teenager may need the procedure soon, talk to your dentist so you can start developing a plan that works for you and your child.
About the Author
Dr. Gilberto Lopez believes that patience and kindness are vital to providing truly great dental care. In his 25 years of practicing dentistry, he has helped many people though the process of having their wisdom teeth removed. If you'd like to schedule a consultation for your child, you can do so through his website or at 479-434-4277.