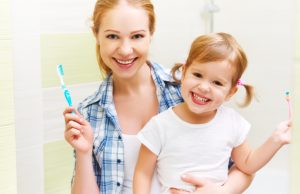 Your family's oral health is vital. At New Smile Dental, we want you to choose a qualified and trusted family dentist in Fort Smith. Here's how you can search for that excellent dental health provider.
What is Family Dentistry?
A family dentist cares for all aspects of your oral health, particularly in the area of preventive dentistry. From hygienic cleanings to remove plaque and tartar, to digital X-rays and exams, to restorations such as composite fillings and porcelain crowns, your family dentist preserves smiles  for patients of all ages–from toddlers to senior adults.
Family dentists provide other preventive services, too, such as fluoride treatments, plastic sealants and mouthguards for sports, TMJ and snoring. And, when serious concerns arise, such as oral injury or a toothache, the family dentist addresses emergency care needs promptly, calmly and compassionately.
In addition, the family dentist offers a varied menu of restorative and cosmetic treatments. The dentist formulates treatment plans to reach each patient's cosmetic smile goals.
Research
Before you choose a family dentist, find out who is in your area. The doctor's website gives you information on education, professional memberships, a  list of services, his or her dental school  and continuing education credentials. Explore online rating sites such as Healthgrades.
Also, get a referral from a trusted friend. Ask about his or her dentist, especially if they have used the kinds of services your family needs. For example, is your neighbor happy with her child's orthodontist?
Tour the Office
How the dental office operates is a reflection of the doctor's personality and philosophy. Your family deserves a dentist and support staff who are kind and always available to address emergencies.
Ask for an office tour. Is the office convenient to your home, the kids' schools or your workplace? Is the atmosphere welcoming? Is the staff helpful? If you have young kids, when does the dentist first start seeing them?
Additionally, what are the payment or financing options for more costly procedures? Does the dentist offer new patient specials, particularly on preventive services such as exams and cleanings? What dental insurances are accepted?
Dr. Gilbert Lopez wants you to know that New Smile Dental accepts Medicaid. He urges you to explore its dental benefits for children. Medicaid provides comprehensive benefits for kids, including preventive services such as fluoride treatments, periodic exams and hygienic cleanings. It also provides for restorations such as fillings and crowns and covers emergency care for toothaches, avulsed teeth and other pressing pediatric issues. In other words, Medicaid takes care of all medically necessary dental work for your children.
Look at the List of Services
What else does the dentist offer? Look for:
Gum disease therapy
Crowns and bridgework
Dentures
Dental implants
Composite resin fillings
Porcelain veneers/Lumineers
Composite resin bonding
Professional teeth whitening
Is There a Family Dentist Near Me?
Look at all aspects of dental care before selecting a family or cosmetic dentist in Fort Smith. We're sure you'll pick Dr. Gilbert Lopez. Why not contact New Smile Dental today to arrange your first visit?